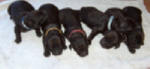 Critter Collars should be a "must have" in your box of whelping supplies. For more information click here for their website
____________________
Ester -C
purchase it here:
Importance of Ester-C relating to hip dysplasia
Ester-C - New Forms and New Uses in Dogs
____________________
________________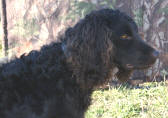 HRCH Brandywines Duramizer Chip UNCH09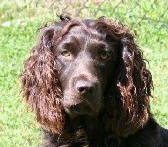 HRCH Lilly's Full Choke Hunter - runner up at 2010 BSS Retriever Nationals in Intermediate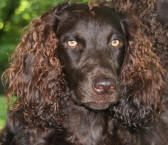 HRCH UH Brandywines Front Paige News - runner up at 2010 BSS Upland Nationals in Intermediate
HRCH UH Brandywines Bessie's Mojo UNCH11
YouTube Videos
Phil & John - Abby Doubles run - BDC 3rd Season
Welcome to Brandywine Creek Boykin Spaniels
We are Phil and Karen Hinchman, the owners of Brandywine Creek Boykin Spaniels. We are located in Greenfield, Indiana which is about 20 miles east of Indianapolis. Phil is a self employed construction contractor. Karen takes care of all the bookkeeping for their construction and rental property business as well as develops and maintains the website for Brandywine Creek Boykin Spaniels.

We have been hunting with Boykin Spaniels for several years and believe they are the greatest hunting and companion dog that exists. We travel throughout the country competing in hunting tournaments and testing our dogs abilities in HRC hunt test. Our dog's hunting ability speaks for itself with lots of ribbons and trophies. Our dogs live in our house and are very much a part of our family.

We have our planned litters mainly in the spring/summer due to our HRC/Tournament Hunting schedule. We try and only place our puppies in hunting or hunt test homes. Having the appropriate health certifications are an important part of our breeding program.

During the late spring and summer months we offer obedience and gun dog training as well as HRC retriever training. We only accept a few dogs during this period so early reservations are usually needed.
We are located on 11 acres just south of Greenfield, IN with Brandywine Creek running through our property. Almost 3 acres are fenced for our dogs to run and exercise with a 1/2 acre pond enclosed also. We raise training birds and have a small training field outside of our fenced areas plus access to a 10 acre field within 5 miles.

This is our tournament truck. It will hold our dogs, luggage and has a 25 gallon pressurized water tank built in. It also contains our gun boxes that hold 3 guns, boots, ammo and lots of dog equipment. The back area has heat and A/C access through the window that was removed between the cab and bed.
Here are some of the trophies our Boykins have won while competing in all breed hunting tournaments. We compete against Labs, Springers, Goldens and sometimes other Boykins.

We have a kennel area attached to our house where we keep our males when our females are in season and where dogs in training can stay. The area is heated and cooled and has outside runs as well as a separate fenced area.
In addition to raising and hunting Boykin Spaniels we are collectors of antique gas and oil memorabilia. Pictured is the entrance to our kennel area.